Mayor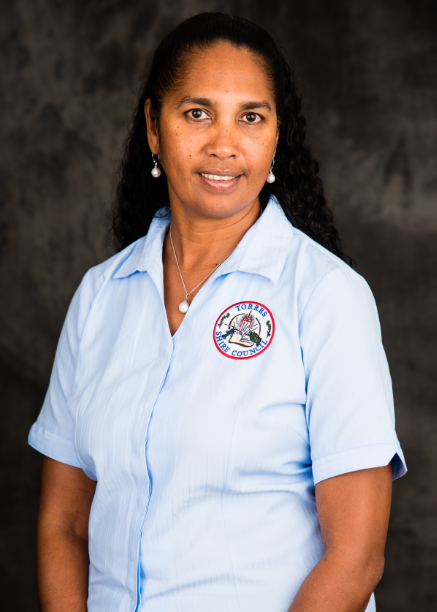 Vonda Malone is the newly elected Mayor of the Torres Shire Council. Vonda possesses a Graduate Certificate in Australian Rural Leadership and a Graduate Certificate in Public Sector Management. Vonda is a fellow of the Australian Rural Leadership Program and the United Nations Human Rights Commissioner's Indigenous Fellowship Program. Vonda is also a recipient of the Centenary Medal and the NAIDOC Award of Excellence.
Since 2015, Vonda holds the position of Executive Director of Primary Health Care with the Torres and Cape Hospital and Health Services (TCHHS) working across the Cape York and Torres Strait to improve the primary health care delivery. Previously Vonda held the position of Senior Manager, Torres Strait and Northern Peninsula Area (TS&NPA) with the Far North Qld Medicare Local (FNQML).
Vonda also holds 22 years' experience with the Australian Government, which started with the Department of Foreign Affairs and Trade working in the Torres Strait, Canberra and New Zealand. She also has extensive experience in Indigenous affairs within the Torres Strait region from her employment with the Torres Strait Regional Authority (TSRA) where she initiated and delivered Closing the Gap initiatives on health as well as housing, employment, grant administration, community capacity building and engagement, social services, economic development, legal services, native title, environmental health infrastructure and sports and recreation.
Vonda is a Director of the Islanders Industry Board of Service (IBIS) since 2012, a member of the Oxfam Australia Straight Talk Steering Committee, a representative on the TCHHS Clinical Safety and Quality Committee, member of the Torres Strait Dementia Project and a member of the Australian Institute of Company Directors.
Contact Information
For a meeting with the Mayor, requests for the Mayor to speak and/or provide letters of support please complete the Request an Appointment Form. If you would like to invite the Mayor to participate in your event, please complete the Request for Mayor at an Event Form and return it by email with a covering note to admin@torres.qld.gov.au or 07 40691 336. The Mayor's schedule will be checked and you will be advised of her availability or otherwise within five days.
To contact the Mayor directly please send an email to vonda.malone@torres.qld.gov.au